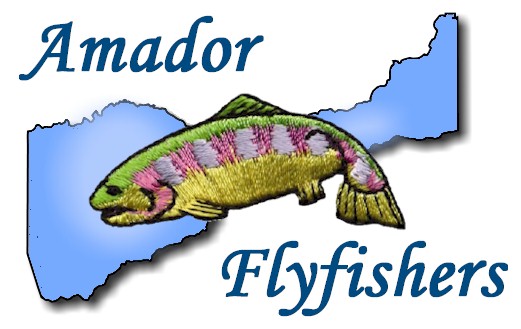 Amador FlyFishers (AFF) is a family-oriented club established in 1991 to provide an opportunity for persons interested in fly fishing to SHARE information with others, LEARN from others, EXPERIENCE fly fishing at various fisheries, and PROTECT fisheries for future generations.




Can you help spread the word?
CLICK HERE to download the flyer to share with others.

Thinking about learning
to fly fish?

Would you like to brush up on your fly fishing skills?

Looking for someone to fish with?
_______

AFF is offering its annual fly fishing class in May 2018. This course is co-sponsored with Amador County Recreation Agency.

The class is limited to 25, so sign up today.
Call (209) 223-6349 or email jsmart@amadorgov.org.

________________

NOTE: Must be 18 years or older. Youth between 12 to 17 may attend, but must be accompanied by a paying adult.
AFF is currently migrating to the use of Meet-Up for scheduling our activities. Meet-Up is a web based application that has been well tested and widely used by various organizations to plan and facilitate events and activities. It simplifies sign-ups and automatically generates a calendar of events. It even provides the capability of making important documents directly available to its members. Click here to access Meet Up.
Note that signing up as a Meet-Up member does not mean that you are a paid member of AFF. We do encourage all of our Meet-Up members to join in our club activities and become paid members.
Click here for the AFF membership form.
Likewise, we encourage all of our paid members to sign-up as members of our Meet-Up group because in the near future you will need to access meetup.com/amadorflyfishers to learn about our club activities and to sign-up for things such as our Outings.